L.A. Cline Fine Art Commissioned Portraits
It is out of my sense of dedication, undying passion and the love of the pastel medium over the past forty years that I have created by hand a variety of Fine Art Commissioned Portraits.
My site is filled with many different exciting art galleries for you to explore.  I regard my portrait paintings as commissioned art work for personal fulfillment, life's enjoyment and the history of our world during our time. Portraits can be Family, Painted Baby Portraits, Pets, Wildlife, Corporate, Sports, Entertainment, Special Landscape Locations, and Flowers or anything that is important to you in your life. It is the details within the art that gives life and love to your masterpiece portrait painting.
Most importantly a custom portrait painting I create for you must fulfill your ideas, desires and bring eternal happiness.
I would like to introduce myself and the original floral pastel painting, "Romancing the Rose".  I started my unique flowers art collection of pastel paintings about fifteen years ago.  With the incredible technology today the Re-creations of my Flowers are mirror images of the original framed wall art. Through my Re-creations I can reach out and continue my quest to bring the glorious beauty of this world close up and personal with unique originals. If you are in Delray Florida you can view this image in plexi-glass as a unique original at "The Heart of Delray Gallery" at 1440 N. Federal Hwy. Delray Beach, Florida.
Save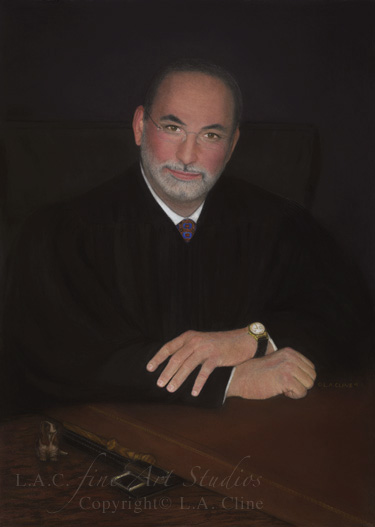 Corporate Pastel Painting by L.A. CLINE
Save
Creating commissioned portraits for corporate entities as with all my portraits I concentrate on capturing the look and essence of the subject along with the moment in fine detail. I paint in all types of lighting, morning, afternoon, evening, sunny and cloudy days so that the light is built into the layering of the pastel. A finished painting has about 20 layers of pastel that gives the painting the depth and detail.
Touching the heartstrings of my clients though these original pastel paintings has been extremely rewarding for both my clients and myself.
Look through the galleries and visit my store to see the beautiful limited editions and the framed one of a kind custom art for sale.  If you are in the Delray Beach Florida, go to "The Heart of Delray Gallery" 1440 N. Federal Hwy. Delray Beach Florida to some of my original art. My site is purely created with the personal touch in mind.  If you are interested in owning or commissioning my art contact me directly either by phone, email or my contact page .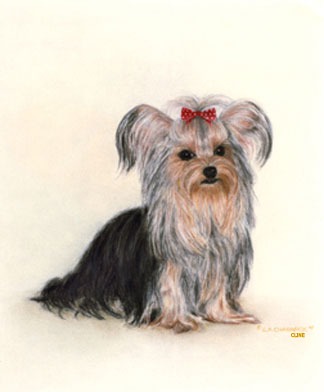 Custom Pet Paintings by L.A. CLINE
Save