Browse My Custom Art for Sale
Everything in my world is a portrait. I regard my portrait paintings as commissioned artwork for personal fulfillment, enjoyment, and a unique telling of the history of our world. From corporate, family, landscape, floral portraits to pets, wildlife and more!, I strive to give color and life to anything that's important to my clients in their lives. When you're looking for one-of-a-kind masterpieces, I have what it takes to bring your artistic visions to life.
At L.A. Cline Fine Art, you'll find a vast selection of custom art for sale. Through my intense dedication, undying passion, and love for the pastel medium, I have created a wide variety of commissioned portraits. With more than four decades of experience, I'm proud to say that I'm capable of designing many different types of paintings, including but not limited too:
My art store is exceptional with one of a kind original fine art. These browse this Custom Art for Sale where you can find small limitied editions along with one of a kind art and original paintings. Just click on the menu!
Explore My Online Art Galleries
My colorful, vibrant site is filled with various exciting art galleries for you to explore to  have a sense of my  artistic style. It is the details within the art that gives life and love to my masterpieces. Among my commissioned portraits, you'll find my original floral pastel paintings in my flowers art collection. I started my flowers art collection about 15 years ago, and it continues to grow today.
If you have fallen in love with a painting of mine, I also create exquisite fine art especially for my art store. These framed digital fine art re-creations on canvas or paper replica my original pastel art for sale, with a mixed media creating a unique original. Through my recreations, I'm able to continue my quest of offering close-up looks at the beauty of this world with unique custom art for sale. My original Abstract Flower Paintings is a contemporary modern addition to my Flower Collections. If you are in Delray Beach, Florida, you can view this image above in plexi-glass "Romancing the Rose", at The Heart of Delray Gallery at 1440 N. Federal Hwy. Delray Beach, Florida. I also show at the Boca Museum of Art, Artists Guild, 2910 N. Federal Hwy. Boca Raton, Florida. Reception Friday February 22, from 6-8.
Save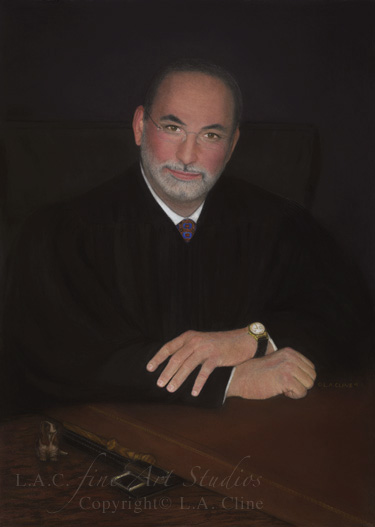 Corporate Pastel Painting by L.A. CLINE
Save
Your Source for Commissioned Portraits
Perhaps what is most rewarding about my work is getting to touch the heartstrings of my clients through original pastel paintings. With all of my paintings, I concentrate on capturing the look and essence of the subject along with the moment in exquisite detail. I paint during mornings, afternoons, and evenings, on both sunny and cloudy days, so that natural lighting is built into the finished portrait. A finished painting will have about 20 layers of pastel to give it remarkable depth and detail.
Browse my online galleries or visit my store to see all of the beautiful limited edition works and framed one-of-a-kind custom art for sale that I have to offer. If you are in the Delray Beach area, please visit The Heart of Delray Gallery at 1440 N. Federal Hwy. to see some of my original art in person. If you are interested in owning or commissioning my art, or something from my art store reach me directly either by phone, email or via my contact page.
Contact me if you wish to purchase any of my works or to schedule a free consultation. Based in Boca Raton, Florida, I proudly serve clients nationwide.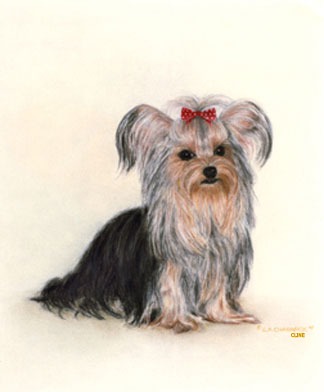 Custom Pet Paintings by L.A. CLINE
Save