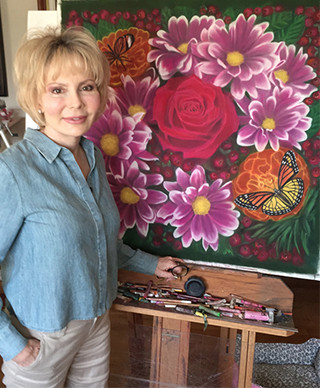 My pastel paintings are the expression of my love of the medium and most importantly to fulfill the desires requested by my clients for their commissioned portraits. I have always been drawn to the softness, the texture and colors of pastel which I have worked with for the past forty years.
The inspiring idea is the ultimate factor for the creation for without this there is nothing. You may have many ideas but only one can fill your heart enough to work on a painting for four months or more without tiring. All my pastel paintings have given me many hours of pleasure and just plain hard work with every layer of pastel challenging me to the fullest.
It is out of my sense of dedication and undying passion that I create original pastel paintings and framed prints of flowers so I can continue my quest to bring the beauty of this world close up and personal.
Painting is like making a movie. First there is the idea, the inspiration, then the script and the actors and finally the Masterpiece.  I am the director of all aspects of staging, sketching, placement and painting of the art I create.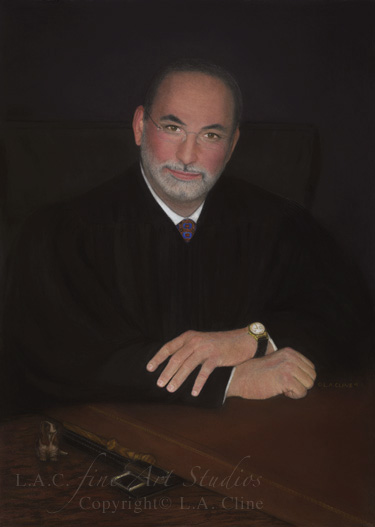 Corporate Pastel Painting by L.A. CLINE
When creating a custom portrait painting I have to capture the soul of the subject and the essence of the moment in fine detail. I paint in all types of lighting, morning, afternoon, evening, sunny and cloudy days so that the light is built into the layering of the pastel.
A finished painting has about 20 layers of pastel that gives the painting the depth and detail.
Touching the heartstrings of my clients though these original pastel paintings has been extremely rewarding for both my clients and myself.
Everything that is important to you in life can be a portrait painting and that includes, your beloved family, Memorial Portraits, beloved pet portraits, dogs, cats, horse prints and paintings, Landscapes, personal objects and more. In my world as long as something is important to you it can be considered a portrait of your life
On the rare occasion I create original pastel paintings for sale they would be in the very special "Art for Sale", on-line gallery where you can find a very eclectic variety of art.
Custom Pet Paintings by L.A. CLINE