Personalized Commissioned Paintings
Capture more than just a moment, make it a timeless memory.
Your custom portrait paintings, like the ones you see on this page begin with a free personal consultation. We talk about your ideas and concept of your commissioned painting such as the subject matter, size, colors, the location the painting will hang. Plan for a minimum of two-three sessions together with the subject for about 45 minutes each if the subject is available. I will create a detailed pencil sketch to scale of your painting before painting. This is very exciting for clients and puts them at ease knowing I've captured their subject. Commissioned portraits take anywhere from 3 to 8 months to complete.
The commission paintings includes; all conversations, emails, critiques, the painting, and framing. If traveling is involved, travel and shipping expenses will be additional. Upon the quote agreement, a comfortable deposit will be requested.
L.A. CLINE is a multifaceted Artist that loves to create a wide range of subject matter using the pastel medium. For the artist, everything is a portrait, people, places, pets, sports, landscapes, flowers, and more! To get started on your portrait or painting, contact L.A. Cline today for your free consultation by calling 954-850-1056 or email at lac@lacfineart.com.
Highlights About the Artist, L.A. Cline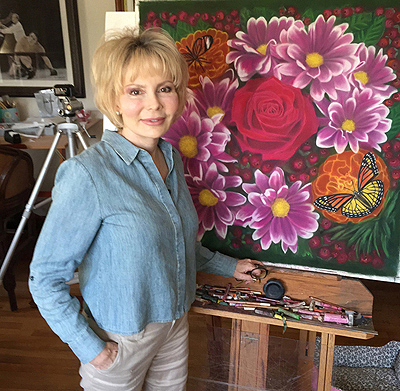 In addition to the many family, pet portraits, animals including endangered species on my site:
One of L.A. CLINE's first Corporate Portraits was for Mr. Goorland from the law firm of Ruden, Smith, Shuster, McClosey & Russell commissioned a portrait for his corporate office, Fort Lauderdale, Florida
L.A. Cline was commissioned to create two Judicial portrait paintings for the Lawson E. Thomas Courthouse Center, Miami, Florida. A portfolio of these two portraits was accepted by the Smithsonian Institute in their "Living Artists File", at the American Art and Portrait Gallery Library in Washington DC. This file can be viewed by the patrons to learn about our American heroes and the Artists that created their images.
Southern Wine and Liquor of Miami, Florida commissioned L.A. Cline to create a memorial portrait of their long-time employee that adorns the Southern Wine and Liquor Lecture Room at the Florida International University in North Miami, Florida.
L.A. Cline painted a pastel portrait for the Courtroom of the Third Court of Appeal of their then Chief Judge, Miami, Florida.
The Sidney M. Aronovitz Courthouse now houses his pastel portrait created by L.A. Cline in Key West, Florida.
The artist's work has been featured in the Miami Herald Newspaper, Channel 10 TV, showing the Sports Collection, BB&T Hockey Arena, showing Panther Paintings, Artist Spectrum Magazine, Venu Magazine, Hortt Exhibition, Four Month one woman show including a Trend Event at Neiman Marcus, Fort Lauderdale, Peoples Choice Award  at the 7th Annual Fine Art Show at The Lauderdale Yacht Club, Fort Lauderdale, Fl, Agora Gallery, New York City, Exhibition at Nestler Poletto International Realty at their corporate office, Boca Raton, Fl, The Heart of Delray Gallery, Delray, Fl. Guild Communications for the Boca Raton Museum of Art Artists Guild. The artist is a long-time member of the Pastel Society of New York and has been working with pastel for over 40 years.
Get Started on Your Commissioned Portraits!
The portraits above are just some of the commissioned paintings by clients. If you are interested in making a timeless memory, contact L.A. Cline today to schedule your free consultation by calling 954-850-1056 or email at lac@lacfineart.com. Check out L.A. Cline's Art Gallery for other commissioned paintings.