Save the memory of your Wedding Bouquet Commission, L.A. CLINE Master Pastel Artist to create your original keepsake painting!
Your Custom Wedding Bouquet Painting Includes:
A pencil sketch to scale of your painting
Updates to view as the painting progresses
Custom sizes and frames presented to choose from
Still planning your wedding? Connect with the Artist.
Email or Phone: 954-850-1056 to create an original painting of your love.
L.A. CLINE wants you to be thrilled with your new art and gives a 100% Satisfaction Guarantee to make sure the painting is something you will cherish. "I finally received my painting [Simply Beautiful] by L.A. Cline back from the framers. And I cannot tell you how thrilled I am. I'm a big fan of L.A. Cline's work and I have watched this painting from start to finish, as it bloomed into its full Beauty. I placed it over my fireplace, the focal point of my living room and it is more magnificent in person than it was online. To be able to see all the detail and work that went into this. I can honestly say it has enhanced my living room and it truly has earned its name "Simply Beautiful"
Michael Don Hawk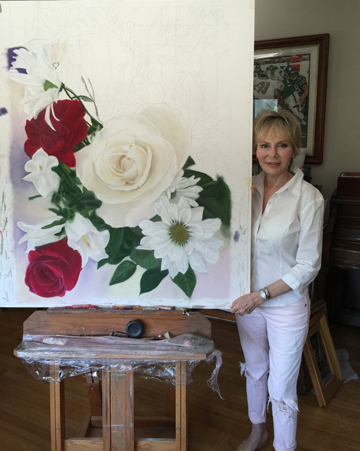 L.A. CLINE, is a multifaceted artist that loves to create a wide range of subject matter using the pastel medium and more. In addition to the many portrait paintings, the artist's work has been featured in the Miami Herald Newspaper, Channel 10 TV, showing the Sports Collection, BB&T Hockey Arena, showing Panther Paintings, Artist Spectrum Magazine, Venu Magazine, Hortt Exhibition, Four Month one woman show including a Trend Event at Neiman Marcus, Fort Lauderdale, Peoples Choice Award at the 7th Annual Fine Art Show at The Lauderdale Yacht Club, Fort Lauderdale, Fl, Agora Gallery, New York City, Exhibition at Nestler Poletto International Realty at their corporate office, Boca Raton, Fl, The Heart of Delray Gallery, Delray, Fl. A portfolio of two Memorial Judicial  portraits by L.A. CLINE was accepted by the Smithsonian Institute in their "Living Artists File", at the American Art and Portrait Gallery Library in Washington DC. This file can be viewed by the patrons to learn about our American heroes and the Artists that created their images.
L.A. CLINE is a long-time member of the Pastel Society of New York and has been working with pastel for over 40 years.
This is a short biography for more information call the Artist.