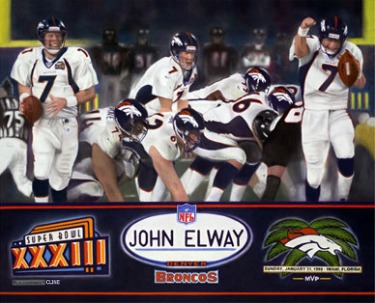 Sports has always been a passion for me. I have had to be very persistent to have had the opportunities to create the amazing collection of Pastel Sports Paintings I have painted over the last 18 years.
It all started with a dream to paint Dolphin Quarterback, Dan Marino. Back in 1996, I started to paint two Pastel Paintings of Dan Marino, one a portrait and one an action scene, entitled, "The Game" measuring 38″X 45″. These paintings were the spark that lit the fire. Going to the games and seeing the head to head combat between players, the strategies and their passions to win, fueled my desire to paint a new kind of Sports Historic Painting, capturing that moment forever.
For me, our athletes are like the gladiators, fighting against all odds to win and stay on top. Vince Lombardi said "The harder you work the harder it is to surrender."
Creating the Super Bowl XXXIII Painting, was an incredible feat; seeing John Elway actually make that last winning touchdown was a thrilling moment. To capture and immortalize that moment within a 45″X 52″ Pastel Painting, is a work of Art to behold.
In addition to the Broncos painting of Super Bowl XXXIII, ©L.A. Cline, there are many other Sports Paintings I have created over the paste eighteen years. Watch the exciting Sports Painting Video and view the Sports Art on my website.
I plan to continue this quest to create team paintings so the teams can offer their fans the opportunity to collect Art Prints as creative memorabilia.
My name is L.A. CLINE and I am a Master Pastel Artist painting for over 30 years. Comments are always welcome!!!! Get ready for Super Bowl XLVIII on February 2nd.
Contact Information
L.A. Cline
LAC Fine Art
LAC@LACfineart.com
954-850-1056