Sale!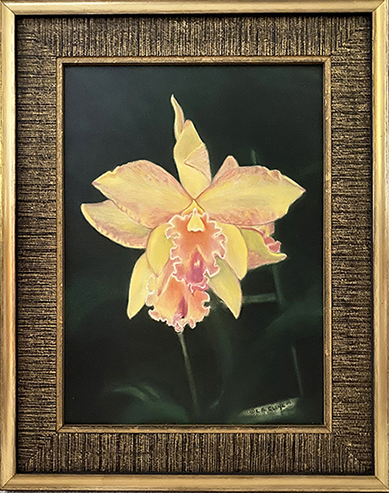 "Bellissima"
L.A. CLINE's encounter with the Cattleya Orchid was nothing short of magical. It was a moment of pure enchantment that left the artist in awe. Nestled under the cool shade of an avocado tree, away from the harsh glare of the sun, this particular flower stood out in all its natural beauty. Its size was awe-inspiring, measuring an impressive 10½" in diameter, and its yellow hue was so vivid that it could be spotted from a block away. As the artist approached the flower, the brightness seemed to intensify, drawing them in further. It was a captivating sight that stirred something deep within the artist's soul and became the inspiration for a new piece of art.
With great care, the artist scanned and digitally processed the original pastel painting of the Cattleya Orchid. The goal was to capture the essence of "Bellissima," as the artist had come to call it, in a new form. Using our incredible digital technology to create a new version of Bellissima. The result was a just the beginning of the artistic process.
The next step was a labor of love, as the artist meticulously hand-painted layers of acrylic paint onto the canvas. Using their keen eye for color and detail, L.A. CLINE recreated the vibrant yellows that had captivated them in the original pastel painting. It was a painstaking process that required skill and patience, but the artist was determined to bring "Bellissima" to life in a new way.
The end result was nothing short of breathtaking. The fusion of digital and traditional art techniques had transformed "Bellissima" into a stunning masterpiece.
Now, you can find two versions of "Bellissima" in the art store. Each one is unique, created using different types of materials and frames to give it its own originality. Whether you prefer a traditional frame or a modern one, you can choose the version of "Bellissima" that speaks to your heart and brings the magic of L.A. CLINE's encounter with the Cattleya Orchid to you.
Framed Art: Bellissma Painting, Subject: Yellow Cattleya Orchid, Style: Realism, Yellow Orchid painting, Flower Painting, Digital Art Flowers, Medium: Hand-Painted Oil Paint, Materials: Shiny Canvas, Archival Inks, Digital Art, Frame, Clear Vanish for UV protection and preservation.
17″ X 21 1/2″, 2lbs.
Made in the USA by Artist, L.A. CLINE