This Art Store offers, small limited-editions and one of a kind versions of, Master Artist, L.A. CLINE original paintings. Each fine art is uniquely hand-painted, framed and sized differently. If you have any questions, feel free to contact the Artist. Fine Art Quality Promise Guarantee.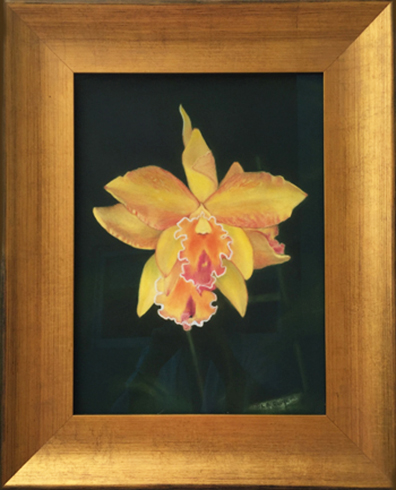 "Bellissima" Gold Leaf Frame
L.A. CLINE's encounter with the Cattleya Orchid was a moment of pure enchantment. Nestled under the shade of an avocado tree, untouched by the harsh glare of the sun, this particular flower stood out in all its natural beauty. Its 10½" size was awe-inspiring, and its yellow hue was so vivid that it could be spotted from a block away. As the artist approached the flower, the brightness seemed to intensify. This captivating sight became the inspiration for the original pastel painting titled "Bellissima".
To capture the essence of "Bellissima" in a new form, L.A. CLINE scanned and digitally processed the original pastel painting with great care. The result was a high-quality digital image on acid-free canvas using archival inks. The next step was a labor of love, as the artist meticulously hand-painted layers of pastel onto the canvas, recreating the vibrant yellows that had captivated them in the original pastel painting. The end result was a stunning fusion of digital and traditional art techniques, bringing "Bellissima" to life in a new way.
To further enhance the presentation of this unique artwork, "Bellissima" was elegantly framed with a gold leaf frame. This beautiful frame added a touch of sophistication to Bellissima, elevating it to a new level of artistry. "Bellissima" was showcased at Neiman Marcus during their Trend Event and Artist Showing, adding to its prestige as a one-of-a-kind work of art from the Floral Art Collection by L.A. CLINE.
The artist's encounter with the Cattleya Orchid and its breathtaking beauty inspired the creation of the original pastel painting "Bellissima". Through a meticulous process of digital processing and hand-painting with acrylics, the artist transformed the original artwork into a unique masterpiece. Framed with care and exhibited at a prestigious event, "Bellissima" is a testament to the artist's skill and creativity, a rare opportunity to own this truly one-of-a-kind work of art.
Framed Art: Bellissima Gold Leaf Frame, Subject: Yellow Cattleya Orchid, Style: Realism, Flowers Painting, Orchid Art, Cattleya Ochid Painting, Digital Art FLowers, Medium: Hand-Painted Pastel, Materials: High Quality Acid Free Paper Mounted on Acid Free Foam Core, Archival Inks, Digital Art, Spacers, Gold Leaf Frame, Museum Glass, UV Protection and preservation.
18 1/4″ X 22 1/4″ 5lbs.
Made in the USA by Artist, L.A. CLINE
View Larger Image