This Art Store offers, small limited-editions and one of a kind versions of, Master Artist, L.A. CLINE original paintings. Each fine art is uniquely hand-painted, framed and sized differently. If you have any questions, feel free to contact the Artist. Fine Art Quality Promise Guarantee.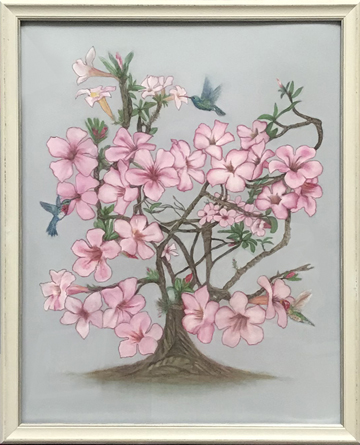 "Bliss" Painting
The Bliss Painting transports you to a world of unadulterated joy and tranquility depicting an idyllic scene where a tree emerges from the light blue-gray backdrop, adorned with blooming flowers, and three hummingbirds gracefully sip nectar from the Desert Roses. The use of heavy cotton acid-free paper and pastel as the medium in the original artwork adds to its exquisite texture and depth. The hummingbirds, rendered in oil pastels, are a representation of the indigenous species found in the United States, including the Broad-Tailed Hummingbird, Red Throat Hummingbird, and Anna's Hummingbird.
The original Bliss Painting is a sizable masterpiece, but a smaller 16″X20″ version was created at the request of a client. Utilizing advanced digital technology, the original artwork was meticulously scanned to replicate its beauty in the smaller format. The skilled artist, L.A. CLINE, added hand-painted accents to the piece, using oil pastels for the hummingbirds and soft pastels to blend seamlessly with the paper. Then framed using see through plexi-glass with no glare. The finished result is a stunning custom artwork that delighted the happy client.
If you desire a personalized version of this exquisite treasure, you can contact L.A. CLINE for a consultation. The artist is skilled in tailoring the artwork to your preferences, and there is no charge for the initial consultation. Own a piece of blissful serenity that is uniquely yours with a custom Bliss Painting,
Framed Art: Bliss Painting, Subject: Desert Roses with Hummingbirds, Style: Fantasy, Surrealism, Fine Art, Contemporary Painting, Digital Art Flowers, Flower Painting, Medium: Hand-Painted Pastel, Oil Pastel Materials: Acid Free Cotton Art Paper Mounted on Acid-Free Foam Core, Archival Inks, Digital Art, Wooden Frame, Spacers, UV Glass for protection and preservation.
16″ X 20″. 1.5lbs.
Made in the USA by Artist, L.A. CLINE
View Larger Image