This Art Store offers, small limited-editions and one of a kind versions of, Master Artist, L.A. CLINE original paintings. Each fine art is uniquely hand-painted, framed and sized differently. If you have any questions, feel free to contact the Artist. Fine Art Quality Promise Guarantee.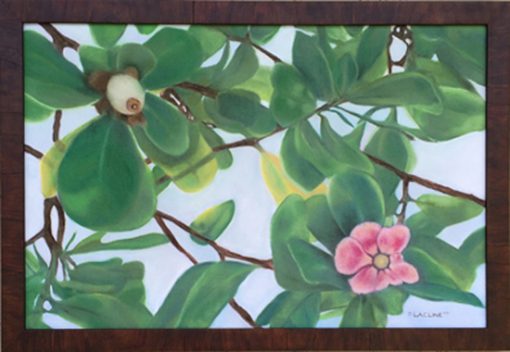 "Bloom in the Sky"
The inspiration for the painting "Bloom in the Sky" came from a unique and breathtaking perspective. The artist gazed up into the sky through the lush leaves of an Apple Pitch Tree, marveling at the interplay of transparencies as sunlight filtered through. Against the backdrop of the light blue sky, a pink flower bloom caught the artist's eye, creating a mesmerizing sight that served as the foundation for the painting.
The original artwork is a pastel painting meticulously crafted on heavy acid-free paper. To bring the artwork to life in a new way, the artist scanned the original Bloom in the Sky and transformed it into a digital image on canvas. The canvas was then stretched and hand-painted. Artist, L.A. CLINE choose a frame with pieces of natural wood to create a unique frame.
The result of this fusion of traditional and digital art methods is a stunning piece of art that captures the essence of nature. The free-flowing brushstrokes and intricate details hand-painted by L.A. CLINE to bring a sense of vitality and beauty to the artwork, while the use of modern technology adds a contemporary touch. The "Bloom in the Sky" painting is not just a visual delight, but also a seamless integration of artistic techniques and mediums, creating a truly unique and captivating piece.
This exquisite artwork brings the beauty of nature into any living space. The interplay of light and colors, the delicate balance of traditional and modern techniques, and the meticulous attention to detail make "Bloom in the Sky" a masterpiece that will captivate art enthusiasts and nature lovers alike. This artwork is a testament to the artist's creative vision and skill, and a stunning representation of the beauty found in the natural world.
Framed Art: Bloom In The Sky, Subject: Apple Pitch Tree Painting, Nature Painting Style: Mixed Media Art, Realism, Tree Painting, Fine Art, Nature Painting, Materials: Pastel, Acrylic Paint, Stretched Acid-Free Canvas, Light Modeling Paste, Archival Inks, Digital Art, Wooden Frame, Varnish Spray, UV protection and preservation.
32 1/2″ X 22 1/2″, 4.5lbs.
Made in the USA by Artist, L.A. CLINE
View Larger Image