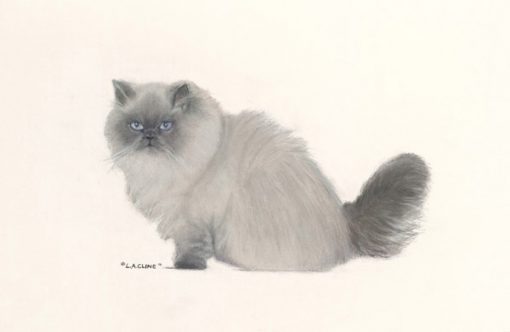 "Blue Point Himalayan Cat"
Madison, the Blue Point Himalaya Cat, stood tall and regal after a thorough grooming session. His luxurious fur was perfectly groomed, showcasing the beauty of his unique breed. With a slight turn of his face, Madison struck a pose that captured the elegance and grace of his species.
A memorial commission was undertaken to create a pastel painting of Madison, and the owner and client provided several pictures of their beloved cat, even including a lock of his fur as a reference. Extensive research on the Blue Point Himalaya Breed was conducted to ensure accuracy in capturing Madison's distinctive characteristics. The client's discussions about their cherished pet also provided valuable insights.
Based on the approved sketch to scale, the pastel painting was meticulously crafted. The background was intentionally left unpainted, as Madison Blue, as he was fondly called, was the main focus of the artwork. The heavy art paper with its textured surface added depth and dimension to Madison's fur, truly capturing his magnificence.
26″ X 30″
Framed Painting: Blue Point Himalayan Cat Subject: Blue Point Himalayan Cat, Style: Realism, Portrait Painting, Fine Art, Cat Painting, Memorial Cat Painting, Medium: Pastel, Materials: Heavy Acid Free Cotton Art Paper Mounted on Acid-Free Foam Core, Matted, Spacers, Frame, Plexi-Glass for UV protection and preservation.
Master Pastel Artist L.A. CLINE
View Frame Preview