This Art Store offers, small limited-editions and one of a kind versions of, Master Artist, L.A. CLINE original paintings. Each fine art is uniquely hand-painted, framed and sized differently. If you have any questions, feel free to contact the Artist. Fine Art Quality Promise Guarantee.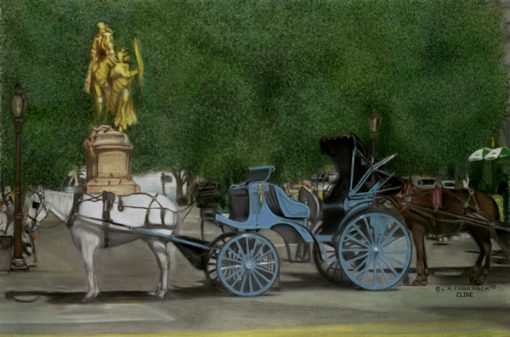 "Central Park South" NYC Black and Gold Frame
"Central Park South" NYC, Pastel Painting represents a world-wide famous gathering landmark.
This painting is the joyful experience of a magnificent summertime view of Central Park South is what every New Yorker and tourists wait for all year long. Now they can enjoy their tour of Central Park on a Sunny Day in beautiful weather! Summertime in "Central Park South" NYC is the time for memories, proposals, love rides around Central Park. Now the horses line up, carriages shiny freshly painted waiting for the man dressed with a top hat in the background to fill the carriages. The carriages have been painted different colors and are slightly different styles to choose from. Summertime gear for the horses is different from the heavier gear they wear in the winter. The lighter straps that show off the shiny fur coats of the horses standing in a line taking a lunch break before the next rush.
There are so many exciting in this busy composition. It is evident in the painting the use stippling in the lush layers of the green trees and the more abstract technique used for the glistening statue. To enhance these features and more I decided to scan the original painting to create a beautiful piece of digital fine art which I then hand-painted with soft and hard pastels to give this work of art it's own originality. The unique curves and dips of the framing also make this fine art very unique black and gold painting frame.
L.A. CLINE
Framed Art: Hand Painted Pastel, Archival Inks on Canvas, Digital, Framed, encased in tru view Acrylic, Subject: Central Park South New York City, Style: Impressionistic, Stippling, Contemporary, Fine Art, Medium: Pastel both Hard and Soft, Acid-Free Archival Inks, Materials: Stretched High Quality Canvas, Spacers, Black and Gold Frame, Museum Glass with UV Protection.
25 1/2″ X 18 1/2″, 8lbs.
Made in the USA by Artist, L.A. CLINE
View Frame Preview