This Art Store offers, small limited-editions and one of a kind versions of, Master Artist, L.A. CLINE original paintings. Each fine art is uniquely hand-painted, framed and sized differently. If you have any questions, feel free to contact the Artist. Fine Art Quality Promise Guarantee.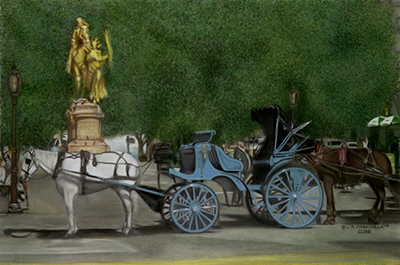 "Central Park South" NYC Gold Trim Frame
"Central Park South" NYC Gold Trim Frame shows a world-wide famous gathering landmark. Central Park South is located across from the new Plaza Hotel and surrounded by all the wonderful stores.  A definite to visit.
The original pastel painting captures Summertime in "Central Park South" NYC. This is the time for memories, proposals, love rides together on your horse drawn carriages through Central Park. Now the horses line up, carriages shiny freshly painted waiting for the man dressed with a top hat in the background to fill the carriages with passengers. The carriages have been newly painted different colors and are slightly different styles to choose from. Summertime gear for the horses is different too. The heavier winter gear winter is replaced with the lighter harness straps that show off the shiny fur coats of the horses standing in a line taking a lunch break before the next rush.
Evident in the original Pastel Painting is the technique of stippling I used for the lush layered green trees, the glistening statue uses a more abstract application. The other details of the grey road, buildings, umbrellas, the horses carriages even the people beside the lamp posts waiting their turn, combine for a beautiful complicated composition. Pastel is a medium you can create many different textures. Using soft and hard pastels produces a variety of textures
I wanted to create a smaller more intimate version of this painting and decided to scan by original and using our modern digital technology along with traditional hand-painting with oil paint I created this new Fine Art.  The High Quality canvas I chose and hand painted touches of oil paint was key to the success. I vanished the image and it just sparkles. This Miniature, of "Central Park South" NYC Gold Trim with it's 5 " Frame is smaller than my original however the wide frame was a perfect choice for this beautiful smaller version.
Framed Art: Hand Painted Oil Pastel, Archival Inks on Canvas, Digital, Subject: Central Park South NYC, Style: Contemporary, Modern, Fine Art, Materials: Stretched High Quality Canvas, Buffed dark wood frame with gold trim, Varnish for UV protection and preservation.
17″X20 3/4″, 3lbs.
Made in the USA by Artist, L.A. CLINE
View Frame Preview