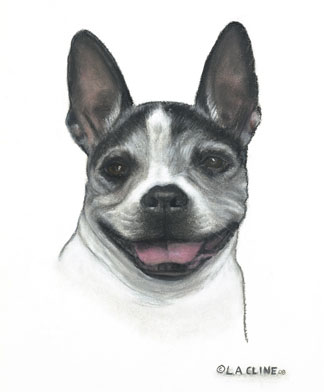 "Essence of Bacchus"
Just after the clients had commissioned the pet portrait of their beloved Bacchus, the devastating news of his passing came only two days later. Bacchus, who held a cherished place in his owners' hearts as a loving and happy companion, had succumbed to a brain tumor. This turn of events made the completion of the portrait all the more poignant and challenging.
As the owner recounted Bacchus's life to the artist, she emphasized that Bacchus was more than just a pet; he was larger than life and had a special place in their hearts. The artist, determined to capture the "Essence of Bacchus," focused on his expressive eyes and endearing smile, even at the age of thirteen. The goal was to portray Bacchus not just as a pet, but as a beloved family member and canine friend.
To add a sentimental touch, the artist included a baby paw print on the portrait painting before framing it. This small detail added an extra layer of significance to the portrait, making it even more special to the grieving owners. Despite the emotional weight of the experience, the completed painting now serves as a cherished memento that brings comfort and fond memories whenever the owners gaze upon it.
24″ X 28″
Framed Painting: Essence of Bacchus, Subject: Boston Terrier, Styles: Realism, Portriat Painting, Boston Terrier Painting, Dog Painting, Memorial Dog Painting, Medium: Pastel, Materials: Heavy Cotton Art Paper Mounted on Acid-Free Foam Core, Spacers, Frame, Plexi-Glass with UV protection and preservation.
Master Pastel Artist L.A. CLINE
Preview Framed Painting