This Art Store offers, small limited-editions and one of a kind versions of, Master Artist, L.A. CLINE original paintings. Each fine art is uniquely hand-painted, framed and sized differently. If you have any questions, feel free to contact the Artist. Fine Art Quality Promise Guarantee.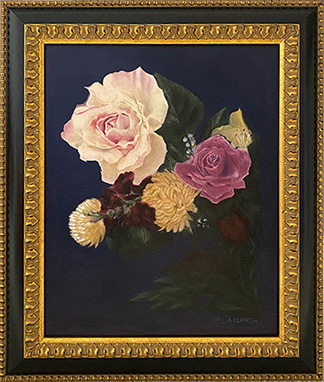 "Flowers in Paradise" Black/Gold Frame
This oriental-inspired version of "Flowers in Paradise" by L.A. CLINE is a stunning rendition that brings a touch of exotic elegance to any space. The canvas has a lustrous shine, adding a sense of richness and depth to the painting. The hand-painted oil paint touches add texture and dimension, enhancing the overall visual appeal.
The flowers in the painting are still the focal point, with their vibrant colors and intricate details capturing the viewer's attention. The fresh flowers that initially captivated the artist during the equestrian competition are brought to life with meticulous brushstrokes, creating a sense of depth and realism. The bouquet is arranged in a way that exudes a sense of paradise, with the flowers seemingly bursting forth in a riot of colors.
The oriental feel is reflected in the framing as well, with a design that incorporates elements of Asian aesthetics. The frame may feature intricate patterns or motifs that add to the overall exotic charm of the painting. The combination of the shiny canvas, hand-painted oil touches, and oriental-inspired framing gives this version of "Flowers in Paradise" a unique and captivating appeal.
Art enthusiasts who appreciate the beauty of oriental art or want to add a touch of exotic elegance to their homes can choose this version of "Flowers in Paradise" to adorn their walls. It is a timeless piece that will be sure to draw admiration and appreciation from those who see it, and it is a testament to L.A. CLINE's artistic talent and ability to capture the mesmerizing beauty of flowers in a unique and captivating way.
Framed Art: Flowers In Paradise Black/Gold Frame, Subject: Roses, Daisies, Iris, Flower Art, Flowers Painting, Digital Art Flowers, Medium: Hand Painted Oil Paint, Materials: High Quality shiny Acid-Free Canvas, Archival Inks, Digital Art, Wooden Black and Gold Ornate Frame, Varnish for UV protection and preservation.
17 3/4 X 20″, 2lbs.
Made in the USA by Artist, L.A. CLINE