Sale!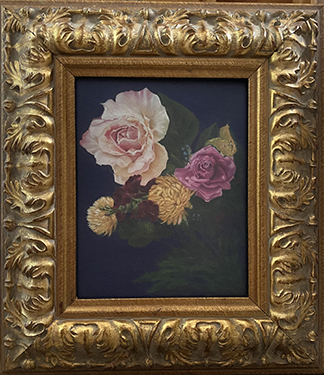 "Flowers in Paradise" Gold Framed
This 8″X 10″ Canvas Fine Art Miniature with a gorgeous heavily carved gold frame was created from the original pastel painting "Flowers in Paradise". To capture all the details of the original pastel painting as a miniature work, the original was scanned to produce a precise digital miniature of "Flowers in Paradise". The artist hand-painted this miniature fine art Flowers in Paradise Gold Frame with pastels and encased this art wit a sculpted heavy Gold Frame and see through plexi-glass. This allowed the perfect combination of the artists hand-painted layers of pastel on acid-free heavy cotton paper with the intricate carved gold frame to capture the beautiful flowers. This wonderful one of a kind art could be displayed in a curio, on a shelf or niche for that one eye-catching floral touch. An exquisite one of a kind work of art.
Framed Art: Flowers In Paradise Gold Frame, Subject: Flowers, Pink Rose, Rose Painting, Flower Painting, Digital Art Flowers, Medium: Hand Painted Layers of Pastel, Materials: Heavy High Quality Cotton Art Paper Mounted on Foam Core, Archival Inks, Digital Art, Clear Varnish with UV protection and preservation.
14 1/2 X 16 1/2, 4lbs.
Made in the USA by Artist, L.A. CLINE