This Art Store offers, small limited-editions and one of a kind versions of, Master Artist, L.A. CLINE original paintings. Each fine art is uniquely hand-painted, framed and sized differently. If you have any questions, feel free to contact the Artist. Fine Art Quality Promise Guarantee.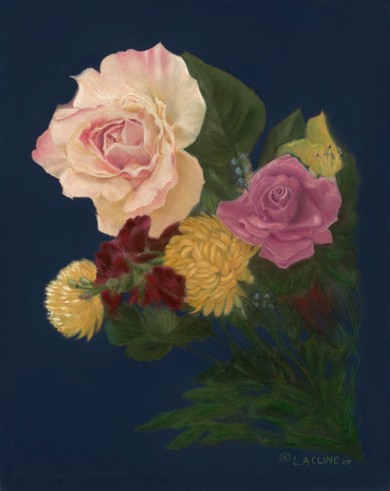 "Flowers in Paradise"
The extraordinary combination of flowers that graced the end of the third and highest jumping fence during an Equestrian competition in Ocala, Florida, was simply breathtaking for artist L.A. CLINE. This unexpected sight stole the show, reminiscent of Flowers in Paradise found amidst the well-groomed horses and grounds.
The combination of flowers in this artwork is truly awe-inspiring, with their vibrant colors and intricate details coming to life against the Dark Royal Blue backdrop and striking gold frame. The artist's skillful use of layers of acrylic paint adds depth and dimension to the flowers, making them appear almost lifelike. Inspired the Venetian painters' technique in the past of using a dark background to highlight vibrant flowers, L.A. CLINE painted the original Flowers in Paradise pastel painting with a modern twist by using a Dark Royal Blue backdrop against a striking gold frame, amplifying the inherent beauty of each flower in the combination.
The original painting was digitally scanned to create a digital fine art that now joins the esteemed Floral Art Collection in the art store. Using layers of acrylic paint, the artist recreated the flowers, infusing the painting with their own unique touch. To ensure its longevity, a clear archival spray with UV protection was applied to preserve the artwork's vibrancy. Only two editions were framed with exquisite wooden gold textured frames, and this is the last one available. Each hand-painted Flowers of Paradise digital fine art is distinct, possessing its own originality and charm, seamlessly blending digital technology with traditional artistic methods.
This artwork is a rare find for collectors who appreciate the seamless fusion of digital technology and traditional artistic techniques in creating exceptional masterpieces.
Framed Art: Flowers in Paradise, Subject: Flowers, Style: Realism, Roses, Fine Art, Mixed Media Art, Flower Painting, Digital Art Flowers, Medium: Acrylic Paint, Materials: High Quality Acid-Free Canvas, Acid-Free Foam Core Mount, Archival Inks, Digital Art Flowers, Spacers, Wooden Frame, Tru-View Museum Glass with UV protection for preservation.
17″ X 20 1/2, 1.5lbs.
Made in the USA by Artist, L.A. CLINE
View Frame Preview