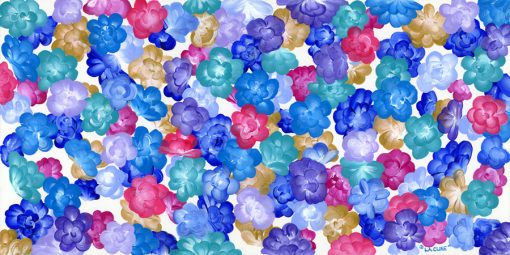 "Happy Flowers Painting"
Happy Flowers Painting with its beautiful overlapping colorful abstract acrylic painting of flowers takes your breath away.
This eye catching original acrylic painting keeps your eyes fixed with excitement with all the colors and flower shapes this painting has to offer.
This original design has layers of Acrylic Paint brushed into different shapes and colors of flowers flowing over each other living together in harmony in this one "Happy Flowers" Painting. It's knowing when to stop is the ultimate question when painting like this. Every layer has to dry before you start another leaving enough the white areas free of paint to give the flowers more contrast.
So you can also experience this "Happy Flowers" painting. The original was scanned to create a spectacular digital fine art using archival inks and acid free canvas, then varnished. The canvas is stretched for easy installation and L.A. CLINE hand pants the sides with gold or silver for a special detail. The fine art is also sprayed with an archival mist to preserve the art.
The Artist can also paint an original using the colors that are meaningful to you and your dimensions!
Digital Fine Art: Stretched Digital Fine Art, Subject: Flowers, Styles: Abstract Expressionism, Abstract Flower Paintings, Fine Art, Digital Art Flowers, Medium: Archival inks, Acid Free Canvas and Varnish UV protection and preservation.
19″ X 39″, 7lbs.
Made in the USA by Artist, L.A. CLINE
View Detail