This Art Store offers, small limited-editions and one of a kind versions of, Master Artist, L.A. CLINE original paintings. Each fine art is uniquely hand-painted, framed and sized differently. If you have any questions, feel free to contact the Artist. Fine Art Quality Promise Guarantee.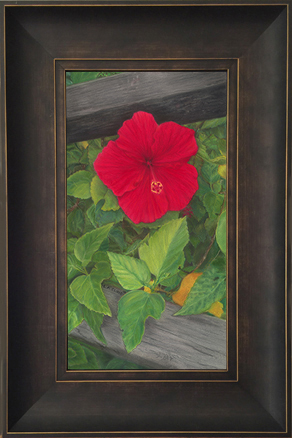 "Hidden Beauty"
An extraordinary opportunity arose when the original painting was selected to be showcased at the prestigious Agora Gallery in New York. As there is only one original piece, a digital process was employed to create a new version of "Hidden Beauty" for the gallery showing. Through meticulous scanning of the original painting, a new piece of digital art was born on high-quality acid-free art paper. Layer upon layer of pastel colors were painstakingly applied to replicate the intensity and three-dimensional realism of the original artwork.
To enhance the beauty of the painting, a hand-rubbed natural brown wooden frame with exquisite gold detailing on the inside and outside edges was chosen. The combination of the frame and the artwork is simply breathtaking, creating a harmonious and elegant presentation. To ensure the preservation of this masterpiece, museum glass was used, offering the ultimate protection against harmful UV rays while providing an unparalleled visual experience for the viewer.
"Hidden Beauty" is not just a painting, but a work of art that tells a story of nature's wonders and the creativity of the artist. Its journey from a hidden Hibiscus flower to a cherished piece of art showcased in a prestigious gallery is a testament to its unique and captivating allure. The digital transformation and meticulous attention to detail in the reproduction process, along with the carefully chosen frame and museum glass, elevate the painting to a whole new level of artistic excellence. It is a true treasure that you can now cherish for generations to come.
Framed Art: Hidden Beauty, Subject: Red Hibiscus Flower, Style: Realism, Nature, Red Hibiscus Painting, Flower painting, Digital Art Flowers, Materials: High Quality Heavy Acid Free Paper Mounted on Acid-Free Foam Core, Spacers, Wooden Hand Rubbed Frame with Gold Detail, Museum Glass, UV Protection for preservation.
16 1/2″ X 25″, 5lbs.
Made in the USA by Artist, L.A. CLINE