This Art Store offers, small limited-editions and one of a kind versions of, Master Artist, L.A. CLINE original paintings. Each fine art is uniquely hand-painted, framed and sized differently. If you have any questions, feel free to contact the Artist. Fine Art Quality Promise Guarantee.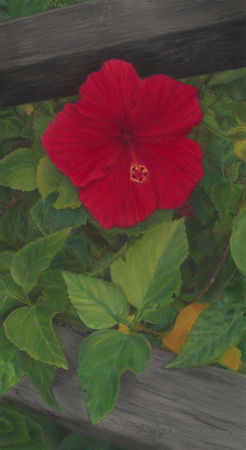 "Hidden Beauty"
The breathtaking crimson Hibiscus graced the landscape with its vibrant hue for weeks on end, nestled just below the protective embrace of the fence and the surrounding leaves, a testament to nature's resilience. Artist, L.A. CLINE who frequented the area on daily walks, was captivated by this flower's tenacity and rich colors, so much so was inspired to create a pastel painting titled "Hidden Beauty".
Through the magic of modern technology, the original pastel painting was scanned and transformed into an exquisite digital canvas, showcasing the fine art of "Hidden Beauty". Every brushstroke by L.A. CLINE was meticulously replicated using a blend of mixed-media techniques, including oil and acrylic paints, with a lustrous gel finish that adds a touches of radiance to the flower and leaves, reminiscent of the original Hidden Beauty pastel painting. The masterpiece was then carefully encased in a double golden wooden frame adorned with intricate black etchings.
The digital process allowed the artist to recreate the intricate details of the Hibiscus petals, capturing the essence of its hidden beauty in a whole new medium. The result is a mesmerizing work of art that retains the original's allure while showcasing the artist's mastery of both traditional and digital techniques. The Hidden Beauty fine art piece now stands as a testament to the enduring beauty found in nature, and the artist's skillful interpretation of it. It is a true treasure, cherished for its vivid colors, delicate strokes, and the story of the Hibiscus that inspired its creation.
Framed Art: Hidden Beauty, Subject: Red Hibiscus, Styles: Realism, Fine Art, Mix Media Art, Medium: Oil Paint, Archival Inks, Digital Art, Materials: High Quality Acid Free Canvas Mounted on Acid-Free Foam Core, Stretchers, Wooden Frame with Gold and Etched Soft Finish with Second Frame, Gel Finish.
15 1/2 X 23 1/4, 2lbs.
Made in the USA, by Artist L.A. CLINE
View Frame Preview