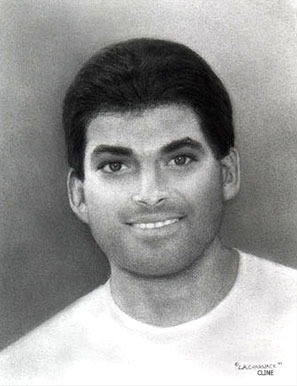 "In Memory Of" Family Memorial Portrait Painting
This commissioned "In Memory Of" Family Memorial Portrait Painting was a very emotional portrait to create yet the parents wanted there son to be in their lives every day for them to see.
This Memorial Portrait Painting captured a very handsome man of 27 who passed to early in life. His Father commissioned this pastel painting. There were many critiques with his Father for he knew his sons face very well and had precise instructions.
His Father restricted the colors to black, grey and white only. There were baby pictures to work from, a few high school pictures and a high school 1″X1″ picture wearing a white T-shirt. These were all the images to create from. When this "In Memory of" Family Memorial Portrait Painting was finished it was the time we took together that his Father's deep concentration put into the painting that in the end the whole family was very emotionally happy with the results
The family needed to see their beautiful son every day.  The painting was a beautiful memory so this young man's spirit would carry on.
16″ X 20″
L.A. CLINE, Master Pastel Artist.