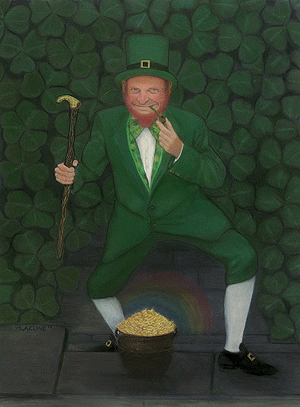 "Lucky Leprechaun"
The mischievous smile, dance-like pose, and pot of gold of the "Lucky Leprechaun" are alluring you to blow him a kiss for good fortune. If you're lucky, you might even spot a four-leaf clover. Do you believe in Leprechauns?
The original pastel painting, Lucky Leprechaun measures 28 1/2″ x 35 1/2″, capturing the enigmatic charm of the Leprechaun with his vibrant green attire, red beard, and mischievous countenance, as this lucky Leprechaun captivates you with his magic. With today's digital technology, a new version with all the bright color nuances of the original pastel painting can be created.
This exclusive offer is not available in the Art Store but only for collectors with a fondness for Leprechauns. If you're interested in owning an 11″x14″ or larger digital fine art of the original Lucky Leprechaun painting, simply fill out the contact page or call.
Although Leprechauns are rarely spotted by humans, this painting gives you a special glimpse into their world. May the Luck of the Leprechauns always be with you!
Leprechaun Art: Archival Inks, Acid Free Heavy Cotton Paper, Pastel, Digital, Subject: Lucky Leprechaun, Style: Fantasy, Magical, Contemporary, Happy, Fine Art, Medium: Archival Inks, Digital, Materials: Heavy High Quality Acid-Free Paper, Acid Free Foam Core Mount, Spray with UV Archival Spray.
Made in the USA by Artist, L.A. CLINE
Preview Detail
Preview Frame