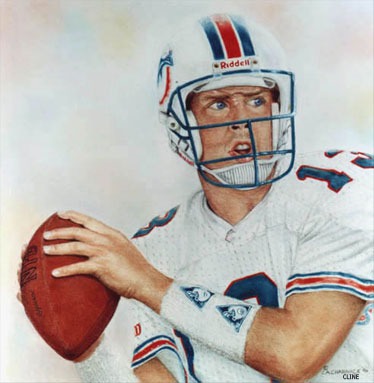 Miami Dolphins Greatest Quarterback
Experience the confidence and determination of football legend Dan Marino with this incredible original pastel portrait, showcasing the iconic Miami Dolphins quarterback from his years of 1983-1999. The painting captures Dan Marino setting up for the perfect pass, with the vivid imagery almost making you feel like you are there on the sunny Florida field, surrounded by cheering fans.
As one of the greatest football players, Quarterback, Dan Marino is a true sports legend, revered for his exceptional talent and fame. The portrait was created after the artist received a special opportunity to photograph Marino up close during games, thanks to a meeting with Bob Ackles, the director of operations and scout for the Miami Dolphins, who had been impressed by an article in the Miami Herald newspaper about the artist L.A. CLINE FINE ART paintings.
The portrait is framed in distressed, heavy wood, with inner filets in the vibrant Miami Dolphins colors, enhancing the beauty and impact of the painting. The artist even had the privilege of borrowing Dan Marino's uniform from the team to ensure every detail was captured with precision. For fans of the NFL and Miami Dolphins memorabilia, this pastel portrait of Dan Marino is a truly extraordinary addition to add to any sports collection.
Original Pastel Painting: Miami Dolphins Greatest Quarterback, Subject: Dan Marino Miami Dolphins Quarterback, Style: Realism, Sports Fine Art, Portrait Painting Dan Marino, Pastel Portrait Painting, Medium: Pastel, Materials: Heavy Cotton Acid Free Art Paper Mounted on Acid-Free Foam Core, Spacers, Frame, Linen Liner, Wood inside frame, Plexi Glass with UV protection for preservation.
36 1/2″ X 37 1/2″, 13lbs.
Made in the USA by Artist, L.A. CLINE
To see painting click here to watch the video, Super Bowl Season is Here!
View Frame Preview