This Art Store offers, small limited-editions and one of a kind versions of, Master Artist, L.A. CLINE original paintings. Each fine art is uniquely hand-painted, framed and sized differently. If you have any questions, feel free to contact the Artist. Fine Art Quality Promise Guarantee.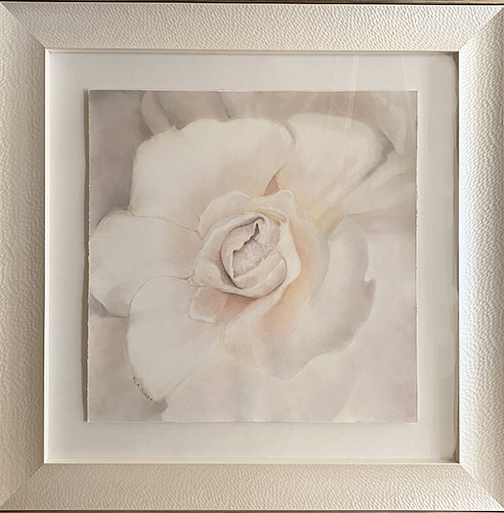 "Pink Rose"
The delicate "Pink Rose" pastel painting was born from artist L.A. CLINE's visit to Butchart Gardens Brentwood Bay, British Columbia, Canada, on a sunny summer's day. Inspired by a beautiful pink rose in full bloom, the artist sought to capture its velvety texture, soft curves, and light freshness on canvas. The result was an original pastel painting that embodied the essence of this exquisite flower.
However, the artist's creative urge led to the desire to expand and develop a new version of the Pink Rose painting while preserving its essence. To do so, the original pastel painting was scanned that produced a new digital image on cotton acid-free art paper. L.A. CLINE meticulously hand-painted layers of the same pastel colors as the original were added to elaborate on the softness of the colors, while hand-ripped edges gave the art a natural feel. A linen background was also added to enhance the presentation.
To further enhance the uniqueness of this one-of-a-kind art piece, two frames were chosen. An iridescent lacquer frame with a semi-gloss shine was paired with a silver border frame, creating a stunning visual effect. The resulting art piece captured the light softness of the Pink Rose, with its muted colors and textured framing evoking a sense of loving emotions for the place one calls home.
The combination of the new digital art, the hand-painted details, and the carefully chosen frames resulted in a truly special and captivating work of art. It is a perfect choice for art connoisseurs who appreciate unique and heartfelt creations that tell a story and evoke emotions. The Pink Rose painting is a testament to the artist's skill and creativity, and a cherished addition to any art collection.
Framed Art: Pink Rose, Subject Pink Rose Painting, Style: Flower Art, Flower Painting, Digital Art Flowers Pink Rose, Medium: Heavy Cotton Acid-Free Art Paper, Hand-Painted Pastel, Materials: Archival Inks, Digital Art, Linen Liner, Frame, Plexi-Glass with UV protection and preservation.
35 1/2″ X 35 1/2″, 14lbs.
Made in the USA by Artist, L.A. CLINE
View Larger Image