This Art Store offers, small limited-editions and one of a kind versions of, Master Artist, L.A. CLINE original paintings. Each fine art is uniquely hand-painted, framed and sized differently. If you have any questions, feel free to contact the Artist. Fine Art Quality Promise Guarantee.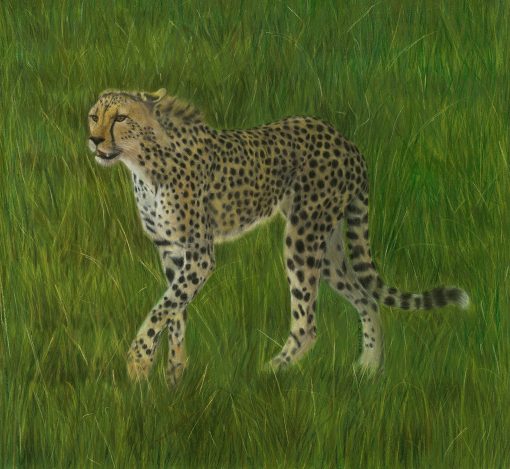 Prowling Cheetah
Behold the captivating "Prowling Cheetah" pastel painting, which transports you to the vast savannahs of Africa where this majestic creature roams with unrivaled grace and power, hunting for survival. Through meticulous study, I have unraveled the cheetah's anatomy, marveling at its muscular body and the agility of its long tail, which serves as a rudder as it reaches speeds of 0-60 mph in just three seconds – a feat to be reckoned with, even as you navigate your own vehicle.
Layer by layer, I painstakingly hand-painted each stroke to achieve the perfect saturation of colors that bring the cheetah's fur and the surrounding grass to life. This "Prowling Cheetah" painting is not only a visual masterpiece, but also a powerful tribute to the breathtaking wildlife that graces our planet. It serves as a poignant reminder that these magnificent creatures deserve our admiration and protection for generations to come.
After months of exhaustive research, sketching, and painting, I am thrilled to present to you this new rendition of the "Prowling Cheetah," capturing the realism of this incredible animal in its natural habitat. Combining digital imaging on cotton paper with archival inks and my own hand-painted layers of acrylic, this unique work of art is mounted on gator-board, with added hand-painted details by none other than L.A. CLINE. This masterpiece is exclusively crafted for you, a true connoisseur of art. Choose your ow frame or allow the artist to recommend. Don't hesitate to call or email to make it yours.
Prowling Cheetah: Prowling Cheetah Painting, Subject: Cheetah, African Cheetah, Styles: Realism, Cheetah Painings, Wildlife paintings, Animal paintings Medium: Hand-Painted Acrylic, Materials: Heavy Cotton Acid-Free Art Paper, Archival Inks, Digital Art Mounted on Gator Board.
20″ X 22″ 2lbs
Made in the USA by Artist, L.A. CLINE.