Sale!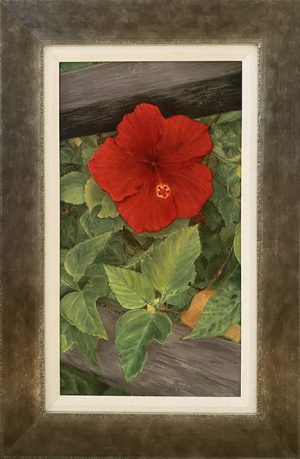 Red Hibiscus Painting
This gorgeous Red Hibiscus Painting is a one of a kind work of fine art. For weeks this Red Hibiscus flower remained blooming. protected by the fence its beauty just captured the artist, L.A. CLINE. It was naturally placed in the perfect place to allow this flower to glow. Now that we have the most advanced technology the artists original was scanned to create this new version on canvas. The artist hand-painted all the details of the flower, fence and leaves with oil paint to make a one of a kind work of art. Framed with the white linen liner makes the image pop and the smoothed marble finish gives a beautiful final touch.
Framed Art: Subject: Red Hibiscus Painting. Style: Realism, Nature Art, Fine Art, Hibiscus Painting, Flower Painting, Digital Art Flowers, Medium: Oil Paint, Gel Paste, Materials: High Quality Acid-Free Canvas, Archival Inks, Digital Art, Stretchers, Linen Liner, Frame, UV Varnish Protection.
16 X 23 1/2, 2 1/2lbs
Made in the USA by Artist, L.A. CLINE