This Art Store offers, small limited-editions and one of a kind versions of, Master Artist, L.A. CLINE original paintings. Each fine art is uniquely hand-painted, framed and sized differently. If you have any questions, feel free to contact the Artist. Fine Art Quality Promise Guarantee.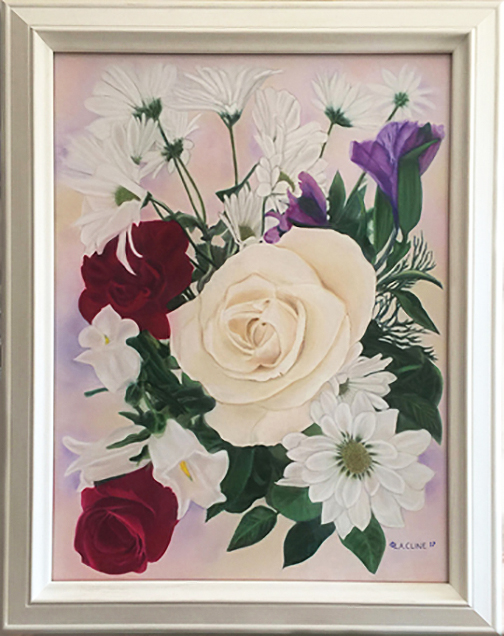 "Simply Beautiful" Bouquet
The Simply Beautiful Bouquet, a stunning piece of art created by artist L.A. CLINE originally was delivered wrapped with an abundance of flowers. The process of choosing the flowers and arranging them to create the perfect composition for this painting was meticulous and time-consuming. L.A. CLINE held the flowers over a vase and let them gently fall until the arrangement appeared just right, capturing the organic and natural placement of the flowers in a modern and captivating way. The bouquet seems to float over a light muted multi-colored background, with no stems or vase, allowing the flowers to burst out and capture the viewer's attention.
Painting with pastels requires many layers of pigment to achieve the desired shades, and the soft nature of pastels makes it a complex process to combine dark and light colors. For Simply Beautiful Bouquet, L.A. CLINE spent four months sketching, choosing the palette, and carefully painting layer after layer to bring this exquisite piece of art to life. The result is a breathtaking composition that showcases the artist's skill and attention to detail.
In addition to traditional painting methods, L.A. CLINE also utilized modern technology in the digital process to capture the beauty and accuracy of the original pastel colors for the art store. This combination of traditional and digital techniques adds a unique and contemporary element to the artwork, making it truly one-of-a-kind. The cream white wooden frame chosen by the artist enhances the elegance of the painting, adding a touch of sophistication to the overall presentation.
The Simply Beautiful Bouquet is not just a painting, but a work of art that embodies the artist's creativity, talent, and dedication to creating a masterpiece that will captivate and inspire you always.
Framed Art: Simply Beautiful Bouquet, Subject: Rose, Daisies, Mixed-Flowers, Flower Bouquet Style: Realism, Floral Painting, Flowers Bouquet Painting, Roses, Digital Art Flowers, Medium: Hand-Painted Pastel, Materials: Heavy Cotton Acid Free Art Paper Mounted on Acid Free Foam Core, Semi-Fixative Spray, Spacers, White Cream Wooden Frame, Plexi-Glass with UV for protection and preservation.
28 1/2″ X 36″, 12lbs.
Made in the USA by Artist, L.A. CLINE
View Larger Image