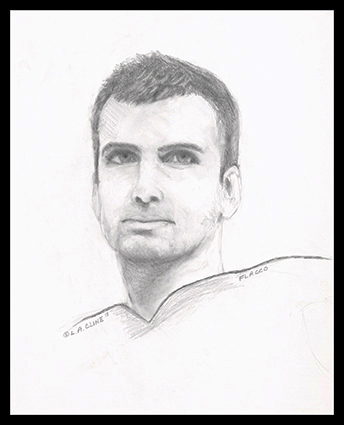 Super Bowl XLVII – Ravens Quarterback Joe Flacco – Sports Drawing
This exquisite piece of fine art captures the essence of the winning team of Super Bowl XLVII, showcasing the Baltimore Ravens quarterback, Joe Flacco, in all his glory. As a Super Bowl Champion, Flacco earned the nickname "Joe Cool" for his remarkable composure and unwavering focus on the field, even in the most high-pressure situations.
The intricate pencil portrait sketch depicts Flacco's intense stare and unwavering concentration, reflecting the unwavering determination and skill that propelled him to victory. Every stroke of the pencil brings to life Flacco's iconic presence as he leads his team to glory in the most prestigious game in American football.
The frame's design complements Flacco's portrait, enhancing the overall presentation of the artwork. The Ravens' distinctive purple hue and striking black accents provide a bold and striking contrast against the delicate pencil strokes, elevating the portrait to a whole new level of elegance. The double matte adds depth and dimension to the artwork, creating a sense of depth that draws the viewer's eye to the exquisite details of Flacco's likeness.
For die-hard Baltimore Ravens fans, this artwork is a true treasure, representing a significant moment in the team's history. It's a piece of memorabilia that holds immense sentimental value, serving as a timeless reminder of Flacco's incredible performance and the Ravens' triumph in Super Bowl XLVII. This fine art sketch is a stunning tribute to Flacco's legacy and a testament to the Ravens' historic victory.
Original Pencil Art: Super Bowl XLVll Ravens Quarterback Joe Flacco, Subject: Joe Flacco Ravens Quarterback, Style: Realism, Pencil Portrait, Fine Art, Medium: Pencil, Materials, Acid Free Paper Mounted on Acid Free Foam Core, Double Matt with Baltimore Ravens Colors, Plexi-Glass with UV Protection for preservation.
20 3/4″ X 24 3/4″, 2lbs.
Made in the USA by Artist, L.A. CLINE
To see another detail of this drawing click here to watch the video, Super Bowl Season is Here!
View Frame Preview