This Art Store offers, small limited-editions and one of a kind versions of, Master Artist, L.A. CLINE original paintings. Each fine art is uniquely hand-painted, framed and sized differently. If you have any questions, feel free to contact the Artist. Fine Art Quality Promise Guarantee.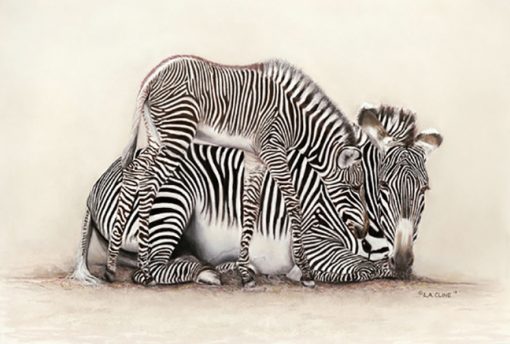 "Tender Moment"
These Grevy Zebra's are very special because of their small striping pattern.  Each Grevy Zebra strips are different for every animal much like our finger prints. The other species of Zebras have much wider stripes. This species was give as a gift to Jules Grevy the President of the Third Republic Regime of France in 1882. Hence the beautiful species the Grevy Zebra.
After six hours after studying these incredible creatures this moment happened. Using pastels to create the stripes was a time consuming and intense process that took over five months. Many layers of pastel had to be applied to finally get the crisp lines of the stripes. The pastel pigments had to be built up from medium to dark so that the end color had the underlying layers of color that gave a rich natural look to the finished painting.
The main reason I wanted to paint these magnificent animals was because they are an endangered species. The Grevy Zebra's nearly 7 feet tall with males weighing 770 to 990 pounds. Every Zebra has their own set of identifying stripes that are individual to each animal and the babies are born a lighter brown color and turn dark when they are about a year old. Their general characteristics are: big heads, long necks, large rounded ears, no markings on their bellies, smaller more delicate striped pattern then any of the other Zebras and a stripe that extends from their head main all the way down to their tails.
Artists now have the opportunity to expand and to create special art using the technology for the digital process and together combining traditional painting methods you can create new originals in different sizes with different looks. Here I have hand-painted this image with layers of pastels to enhance the stripping and depth with added color. There are three in this collection and all were created separately using slightly different colors and different frames so each would be a one of a kind work of art. I have two beautiful pieces in stock. Let me know if you are interested and I can send you both so you can see the different frames
Framed Art: Hand Painted Multi-Media Art, Pastel, Acrylic, Archival Inks on Heavy Paper, Digital, Framed, Subject: Grevy Zebras, Wildlife, Endanger Species, Style: Realism, Wildlife, Wildlife Painting, Contemporary, Fine Art, Materials: Pastel, Acrylic paint, Heavy Acid Free Paper, Linen liner, Spacers, Wooden Iridescent Frame, Outer Silver Frame, Tru View Plexi-Glass with UV protection.
34 1/2″ X 26 1/2″, 13.5lbs.
Made in the USA by Artist, L.A. CLINE
View Frame Preview