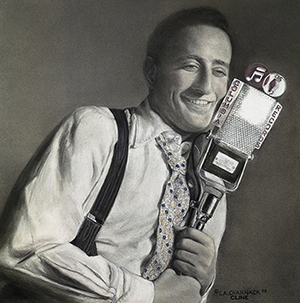 "Tony Bennett Portrait" – Entertainment Portrait
This painting by artist L.A. CLINE is a stunning tribute to the beloved performer Tony Bennett, who has captured the hearts of music lovers for generations. Although this Tony Bennett portrait painting may appeal to those who have followed Bennett's career for many years, it also holds appeal for younger generations of singers who may be unfamiliar with his work until you mention his "duet 11" recording with Lady Gaga "The Lady Is A Tramp and album "Cheek to Cheek" that went platinum and No. 1. Tony Bennett also sang duets with Michael Buble, John Legend and the great Barbara Streisand. Tony Bennett's legacy as a performer has transcended time, making him a true icon in the music industry.
The painting itself is a masterful use of pastel pigments, particularly in the way that the artist has used grey tones to bring out the intricate details of the portrait. The microphone and suspender clips are particularly eye-catching, and the muted blue and yellow tones of Bennett's tie add a subtle yet striking contrast to the piece. Tony Bennett's brown eyes serves to add a beautiful splash of color, bringing the Tony Bennett portrait to life in a way that is both nostalgic and contemporary.
The portrait is framed in a silver grey wooden frame, which perfectly complements the colors used in the painting. A white linen liner further enhances the artwork, drawing the viewer's eye towards the Tony Bennett's portrait itself. It is clear that great care and attention to detail has been taken in the framing of this painting, ensuring that it is not only a beautiful piece of art but also a valuable collector's item.
Overall, this original portrait of Tony Bennett, by L.A. CLINE is a poignant and nostalgic tribute to one of the most beloved performers of our time. It takes the viewer on a journey back in time, evoking memories of a bygone era and celebrating the enduring legacy of a true icon. For fans of Bennett's music and for those who appreciate beautiful art, this painting is treasured possession.
Part of the Artists Collection. For more information contact the L.A. CLINE, https://laclinefineart.com/contact/
29 1/2″ X 29 1/2″ 3lbs.
Original Pastel Painting: Pastel, Heavy Acid Free Cotton Paper, Subject: Tony Bennett, Style: Nostalgic, Realism, Fine Art, Medium: Pastel, Materials: High Quality 130lb Acid Free Paper, Mounted Acid Free Foam Core, Acid Free Semi Fixative Spray, Wooden Frame finished with Silver with slight etching, White Linen Liner, Plexi-Glass, UV Protection.
Made in the USA by Artist, L.A. CLINE
View Frame Preview