This Art Store offers, small limited-editions and one of a kind versions of, Master Artist, L.A. CLINE original paintings. Each fine art is uniquely hand-painted, framed and sized differently. If you have any questions, feel free to contact the Artist. Fine Art Quality Promise Guarantee.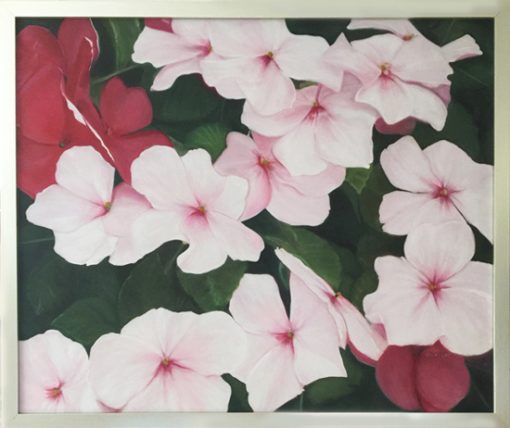 "Wandering Impatiens," Silver Frame
The digital rendition of "Wandering Impatiens" Silver Frame by L.A. CLINE retains the vibrant pinks and fuchsia colors that were the inspiration for the original pastel painting. The twisting and turning of the flowers are depicted with meticulous precision, as the artist used digital technology to recreate the fantasy-like impression of the flowers bathed in sunlight. The acid-free canvas and archival inks used in the digital rendition ensure its longevity and durability, preserving the artwork for years to come.
In addition to digital techniques, L.A. CLINE employed traditional hand-painting techniques to add depth and texture to the artwork, creating a unique fusion of digital and traditional art forms. The result is a mesmerizing piece that captures the essence of the original painting while infusing it with a new medium, showcasing the artist's creativity and skill in blending traditional and contemporary techniques. with the addition of the shiny etched Silver frame adding a new exciting detail to the whole work of art.
This digital rendition of "flower art Wandering Impatiens" by L.A. CLINE is a testament to the artist's ability to adapt and innovate, using modern technology to bring new life to their original inspiration. It is a stunning piece of art that invites viewers to experience the enchantment of the flowers in a new and captivating way.
Framed Art: Wandering Impatiens, Silver Frame, Subject: Wandering Impatiens flowers, Nature Art, Style: Abstract Flowers, Contemporary, Digital Art Flowers, Medium: Hand-Painted Multi-Media, Oil Paint, Acrylic Paint, Materials: Stretched High Quality Acid-Free Art Canvas, Archival Inks, Digital Art, Silver frame, Clear Varnish for UV protection and preservation.
37 1/4″ X 31 1/2″, 10lbs.
Made in the USA by Artist, L.A. CLINE
View Larger Image