This Art Store offers, small limited-editions and one of a kind versions of, Master Artist, L.A. CLINE original paintings. Each fine art is uniquely hand-painted, framed and sized differently. If you have any questions, feel free to contact the Artist. Fine Art Quality Promise Guarantee.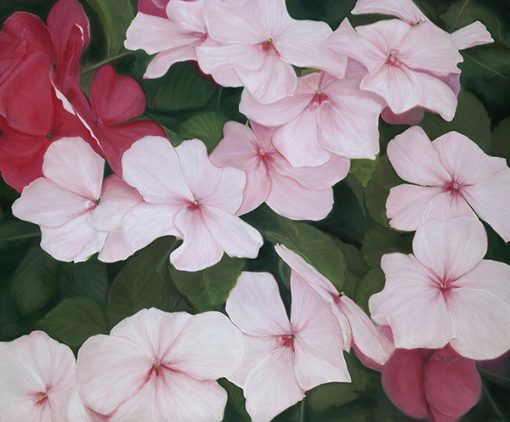 "Wandering Impatiens" Stretched Canvas
The original pastel painting, Wandering Impatiens by L.A. CLINE showcases the stunning beauty of the flowers in full bloom. The vibrant pinks and fuchsia colors pop against the canvas, creating a mesmerizing visual experience. The twisting and turning of the impatiens evoke a sense of movement and dynamism, as if they are dancing in the sunlight.
The fantasy-like impression of walking on air is evident in the composition of the artwork, with the wandering impatiens seemingly floating in a dreamy, otherworldly setting. The artist's skillful use of digital technology has captured the essence of the original artwork while creating a new rendition of Wandering Impatiens stretched canvas with the design on all sides that is both modern and timeless.
The use of archival inks and traditional hand-painting techniques adds depth and texture to the Wandering Impatiens stretched canvas digital artwork, giving it a tactile quality that mimics the original pastel painting. The acid-free canvas ensures the longevity of the artwork, preserving its vivid colors to cherish always.
Canvas Art: Wandering Impatiens Stretched Canvas, Subject: Wandering Impatiens Flowers, Style: Modern, Contemporary, Fine Art, Digital Art Flowers, Abstract Flowers, Medium: Acrylic Paint, Oil Paint, Materials: High Quality Cotton Acid-Free Stretched Canvas, 2″ Wooden Stretches, Archival Inks, Digital Art, Clear Varnish for UV protection and preservation.
29 3/4 X 36″, 5lbs.
Made in the USA by Artist, L.A. CLINE
View Canvas Art